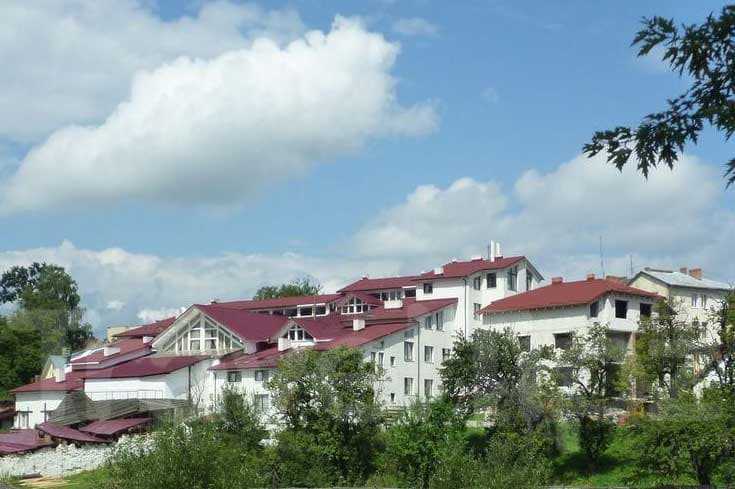 A trip to the waters has always been a privilege of the upper classes of the population. Fortunately, these days everyone can afford this luxury. Ukrainian resorts stand in line with famous European balneological  resorts. The pearl of water therapy of the post-Soviet space is the resort paradise – Truskavets.
Useful mineral water "Naftusia", wonderful nature underlined by the beauty of the mountain peaks, a rich history that goes back to the Middle Ages, developed infrastructure and experienced doctors made the resort a popular place where more than 220 thousand guests come to rest and to have a treatment every year.
Not just only health
Our tourists are occupied not just with health improvement and walks in the city park. It is impossible to arrive in Subcarpathia and not to visit glorious sights that Ukraine is famous for:
Dovbush caves and rocks, mesmerizing waterfalls with the silver waters of the Sukil River and the beauty of century beech forests;the ruins of the ancient fortress "Tustan" with a source of holy water, the Carpathian mountain pass "Tyhii Dol"National park "Sviatyie Beskydy";aerial lift to Mount Trostyan and reserved area – Kamenka waterfall;fantastic Lviv with its magnificent architecture and coffee traditions;natural beauty of the Carpathians: Lake Sinevir, waterfall Devichye Slezy, beautiful mountain views;Castles of Subcarpathia and Zakarpattia: "Palanok" and the hunting grounds of the Shenborn, Zolotaia podkova, including Oleskii,Podgoretsky and Zolochiv castles;for spiritual food: Maniavskii monastery, the Holy Dormition Pochayiv Lavra and the monastery of St. Anne;numerous mountain routes, with a visit to the main ski resorts:Slavske, Yaremche, Bukovel,Vorokhta, bathing in thermal springs and dinners with the national Hutsul traditions.
Accommodating successfully
In order not to spend precious time on the bustle between the pump room of mineral waters, the procedures and the rented accommodation, and then be angry with yourself for failed vacation, you must carefully consider an option of choosing hotel. Excellent services, comfortable living conditions, treatment on its own territory and a lot of additional benefits are guaranteed by the villa "Higina SPA".
On the territory of the villa there is a wide rest zone, which includes baths, cosmetic procedures, massage rooms, rooms for hydrotherapy and mud treatment. Mineral water from the pump rooms is brought directly to the hotel three times a day. So the therapist's appointments in the villa are very easy to perform. Diet meals are provided by our restaurant offering a menu for every taste and purse.