Wrappings for weight loss in Higina Spa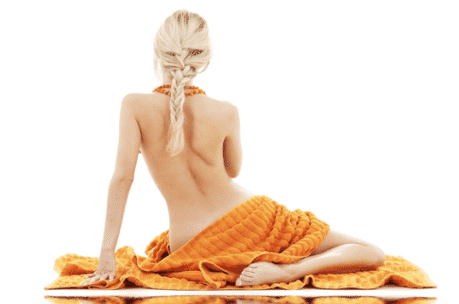 Nowadays wrappings for weight loss are very popular among customers of all ages, such popularity is due to the affordability of sessions, high results after their conduction and unforgettable pleasant feelings.
You can use such procedures for correction of the whole body as well as of individual problem areas.
An additional advantage of this variant of losing weight is that it has a low risk of allergic reactions, since only natural products – chocolate, honey, seaweed, etc., are used for sessions.
Proper preparation for wrapping
To ensure that the wrapping procedure brings as much benefit as possible, the skin should be properly prepared.
It is required to take a hot shower or bath to warm up the muscles of the body.
It will useful to remove the exfoliate skin by using a scrub.
Afterwards body should be thoroughly dried, since the wrapping mixture is applied exclusively to clean, dry skin.
Then, apply the wrapping mixture, after which it is necessary to wrap the treated areas with heat-resistant strips, polyethylene liners and put on the heat-saving suit.
In addition to these recommendations, it is necessary to maintain the optimum temperature in the room where the procedure is performed  so far as any in-and-out can compromise the room's climate and interfere with the session. And to ensure proper water balance in the body during the session will require additional drinking, because when wrapping the body is dehydrated, as it loses a large amount of liquid.
Where to take a qualitative wrapping?
Various methods for losing weight are represented in the list of services of our SPA-hotel. You do not have to worry about anything – our masters will perform all the necessary cosmetic sessions, and will allow you to enjoy the rest to the fullest.
Higina Spa offers several types of wrappings (http://higinaspa.com.ua/spa/hs-obertyvanie/), their regular usage has a considerable benefit to the body, you will feel a significant visible effect after several sessions.
In addition, such vitaminized sessions have a positive effect on the condition of the skin and the entire body as well. The main advantages of this procedure are:
increased skin tone;normalization of metabolic processes, improvement of lymph flow;strengthening of muscles;smoothing the surface of the skin;Anti-cellulite effect;removal of toxins from the body;increased elasticity and smoothness of the body.
All this can be achieved without exhausting trainings and expensive drugs, besides wrapping is absolutely safe for health, so you can use this procedure without any fear.