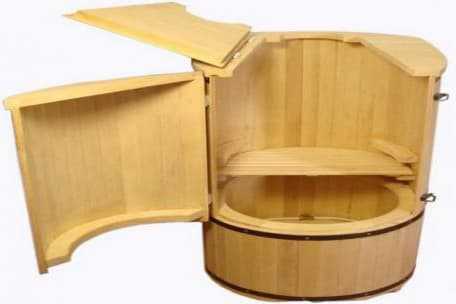 A phyto-barrel is a mini-sauna made from environmentally friendly alder wood, which is one of the best natural pharmacists.
Inside the barrel, steam is supplied, enriched with medicinal herbs and aromatic oils. Steam affects only the body and it is not difficult to breathe. Such SPA procedures are recommended not only for adults but also for children, as well as for people suffering from cardiovascular diseases.
SPA procedure Phyto-barrel is a good prophylaxis for various URTI and promotes active elimination of toxins from the body, and has a rejuvenating effect.
The greatest positive result is achieved in combination with an underwater vacuum massage and subsequent wrapping.
The procedure Phyto-barrel works perfectly due to two points: the herb-infused steam and cedar wood from which it is made.
CONTRAINDICATIONS
oncological diseases – fungal diseases of the skinacute phase of all inflammatory processesDecompensated cardiovascular failuremarked arterial hypertension with renal involvementpresence of an artificial pacemakeracute thrombophlebitis and severe varicose veinsepilepsy – syringomyelia – myelopathyacute disorders of cerebral circulationextrapyramidal diseases with motor impairmentParkinson's disease – migraineschronic hepatitis – cirrhosis of the liverindividual intolerance
After the completion of the procedure, you must take a shower.